Mediterranean Journal of Social Sciences is published by MCSER-Mediterranean Center of Social and Educational research. The journal publishes six issues per year in January, March, May, July, September and November. Also a number of special editions are published. Due to SPAM problems we have temporarily disabled the online registration with MJSS. Please send your manuscript by email at: mjss@mcser.org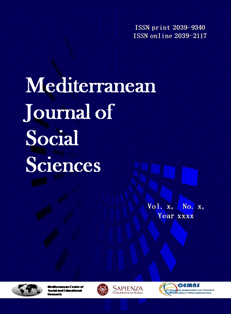 Announcements
Call for Papers for Special Edition on Generation Y, Poverty and Socio-economic Research and Technology Applications in September 2014.

We Invite you to contribute in the special edition on Generation Y which will be published in September 2014 in collaboration with North West University of South Africa. Deadline for sending paper is until July 31. Ref: Prof. J Surujlal Director: Research Development, Faculty of Economic Sciences & Information Technology
Tel: (016) 910 3489
Posted: 2014-01-20
More...

MJSS is now Indexed by SCOPUS!

We have the pleasure to inform you that after one year of evaluation Mediterranean Journal of Social Sciences is accepted for inclusion in SciVerse Scopus!
Posted: 2013-10-29
More...
Vol 5, No 16 (2014): July 2014
Table of Contents
Articles
This work is licensed under
Creative Commons Attribution 3.0 License
.
Mediterranean Journal of Social Sciences ISSN 2039-9340(Print) ISSN 2039-2117(Online)
Copyright © MCSER-Mediterranean Center of Social and Educational Research
To make sure that you can receive messages from us, please add the 'mcser.org' domain to your e-mail 'safe list'. If you do not receive e-mail in your 'inbox', check your 'bulk mail' or 'junk mail' folders..