Mediterranean Journal of Social Sciences publishes six issues per year in January, March, May, July, September and November. MJSS is published from January 2017 by Sciendo DeGruyter. For submissions please send your manuscript by email to: mjss@mcser.org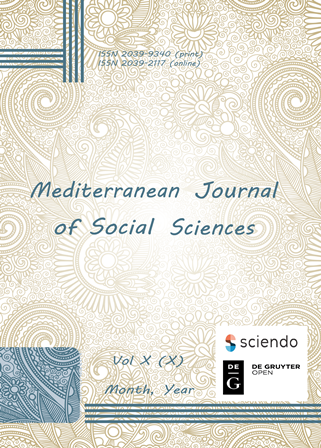 Notification! Hereby MCSER want to notify all professors and researchers that from September 2019 MJSS Journal will be published by Richtmann Publishing Ltd in United Kingdom. We want to thanks all authors for their contribution in Mediterranean Journal of Social Sciences. For submissions or any other query please contact the new editor Richtmann Publishing at mjss@richtmann.org.
Vol 10, No 5 (2019): September 2019
Table of Contents
Articles
This work is licensed under
Creative Commons Attribution 3.0 License
.
Mediterranean Journal of Social Sciences ISSN 2039-9340(Print) ISSN 2039-2117(Online)
Copyright © MCSER-Mediterranean Center of Social and Educational Research
To make sure that you can receive messages from us, please add the 'mcser.org' domain to your e-mail 'safe list'. If you do not receive e-mail in your 'inbox', check your 'bulk mail' or 'junk mail' folders..